List of Bicycle Products/Services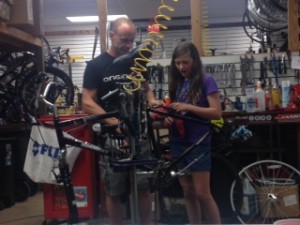 Products
Brands of Bicycles:
Brands for Clothing/Shoes:
Giro,  Defeet, Swiftwick, G-Form, Bell, Kali, Giordana,
Fox, Primal, Bellweather, Andiamo, Specialized, Shimano, Castelli
Racks:
---
Lactate Testing
A very strenuous test that determines your fitness level
We use the computrainer at a fixed resistance for a specified interval. The lactic acid in the blood is recorded before the resistance is increased, and the process is repeated until fatigue.
Spinscan Analysis
On your own bike, your cycling stroke is analyzed using the computrainer. Your bicycle setup and cadence is modified until your optimal efficiency (wattage) is found. The more efficient you are, the faster you go with less effort.
Certified Park Tool School
Call to make an Appointment!
Special Ordering:
If for some reason we don't have what you want in stock, we'll get it in a timely manner.
Repairs:
We service all types and brands of bicycles.
Boxing and Shipping:
We can box and ship your bike to anywhere in the Continental U.S.
Tune-ups:
Making your bike the best it can be.
Sizing:
Utilizing the Fit Kit to precisely and professionally fit you to the bike of your dreams.
Wattage Testing:
Putting you to the test, we put your bike on our computrainer and squeeze every last watt we can get out of you.